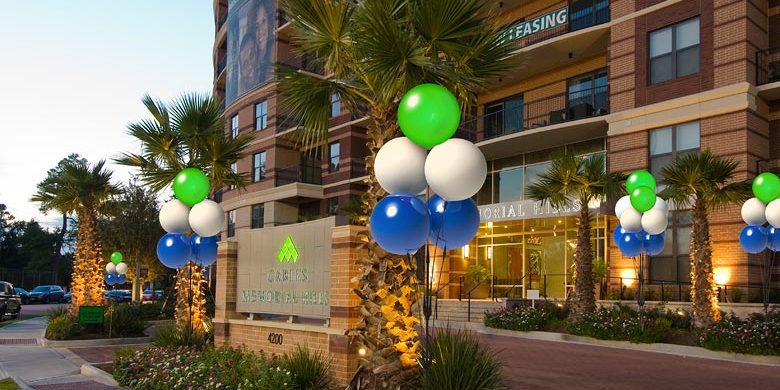 Apartment Balloons Made Easy.
Balloons On A Stick knows apartments! In fact, our parent company, Robinson Creative, is the award-winning apartment branding company multifamily trusts for its image-making campaigns. It was our clients that first demanded better and more high-quality apartment balloons and curb appeal. So, RC launched Balloons On A Stick exclusively for property management and it has expanded to be the most trusted balloon, flag, and sign vendor for multiple industries… with more innovative products added each season!
The industry we know is the foundation for our company. We believe in apartment balloons, feather flags, portable signs, banners, and more… because it attracts your prospects! A community can easily utilize their brand colors with apartment balloons and feathers to grab traffic and direct them to your leasing office. But you can quickly change out these apartment balloons with seasonal and holiday colors for a showstopping celebration! Just use our handy Inflator/Deflator to quickly inflate or deflate balloons when changing them out (depending on the type of balloon)! These are helium-free, permanent, and reusable apartment balloons that constantly stay inflated and shiny! No more bulky helium tanks or dull latex balloons!!
We feature several balloon types for your apartment balloons and communities. DuraBalloons are our most resilient outdoor vinyl balloon. The DuraBalloon is designed to withstand the most extreme weather conditions, so it is our most long-lasting apartment balloon. BalloonBobbers are our most affordable, exterior air-filled balloon. Balloons On A Stick also features PermaShine apartment balloons specifically for interiors.
Each of our innovative balloon options provide multiple products! We recommend using clusters and adding our new pole covers to announce "Now Leasing" or an opening. Combine these dynamic apartment balloon clusters with custom feather flags with your brand colors and logo. Then add interior PermaShine interior ceiling drops, towers or tabletop balloon centerpieces that carry the fun indoors! We suggest you look through all the products because they've been selected exclusively for apartment marketing. Our custom Signicade® Signs with Balloons will highlight an area or grab traffic with your theme, message, and balloons! These portable signs can be set up anywhere and the color and motion of the balloons enhances your message!
Whatever the location or promotion, the apartment balloon is key to your lease-up marketing and success! Now you can Stick Balloons Anywhere™ with Balloons On A Stick apartment balloons, flags and signs! Contact Julie Rodriguez at 1.866.66B-STIX for more ideas and suggestions. She can customize your order for your most successful apartment curb appeal ever!